BikeRight Cycle Training Sessions
BikeRight Cycle Training Sessions
6 June 2022 (by Emma Johnson (emma.johnson))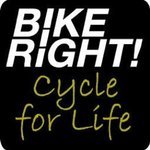 BikeRight! is pleased to confirm dates for both Adult and Child Group sessions throughout summer, as well as ongoing availability for Family sessions.
Children's Learn To Ride Sessions
Running during the summer holidays at venues across Merseyside, these small group courses are perfect for children aged 7+ who are ready to get rid of their stabilisers.
With sessions at Sefton Park throughout June and July, these sessions aim to boost your confidence cycling around your local area.
Dates not suitable? Please contact us directly and we can try to arrange a group session for you and your friends/colleagues at a suitable time. Alternatively, 1-1 Individual sessions (aged 16+) can be booked here through our website.
Sessions are for up to 6 people and at least one trainee must be an adult and at least one trainee must be under 18. Whether you and your family are relative novices to cycling or you all ride already but would like advice on specific routes (to school or friends, for example), your instructor will tailor the session to meet your needs.